Incorporate a pool, furniture, and lights into your backyard to make it more enjoyable during the summer.
Invest in weatherproof furniture that can stand up against harsher conditions while also fitting your style preferences.
Add a fire pit or BBQ grill to create an outdoor dining and entertaining atmosphere.
Hang string lanterns over your patio table for an affordable yet effective way to create ambiance.
As the weather starts to warm up, many of us are looking for ways to spruce up our outdoor spaces. Whether you're dreaming of adding a hot tub or freshening up your garden with some new flowers, there are plenty of backyard renovation ideas to make your summer even more enjoyable.
From creating a cozy seating area to installing an outdoor kitchen, there are endless possibilities when transforming your outdoor space into an oasis. You can turn your backyard into a summer paradise with the right supplies and creativity! Read on for inspiring backyard renovation ideas that will have you enjoying the great outdoors all season long.
Put in a pool
Adding a swimming pool to your backyard is a great way to relax and enjoy the summer months. To get the best results with minimal stress and effort, you must hire experienced swimming pool construction professionals. They can help you design the perfect layout for your backyard, considering shape, size, and special features such as hot tubs or waterfalls.
With their knowledge and experience, they can also ensure proper building codes are followed so that your new pool is up to standard in terms of safety. This way, you can be sure that your ultimate relaxation will be safe, secure, and enjoyable according to your desired backyard renovation specifications!
Add furniture and lights.
Create a cozy seating area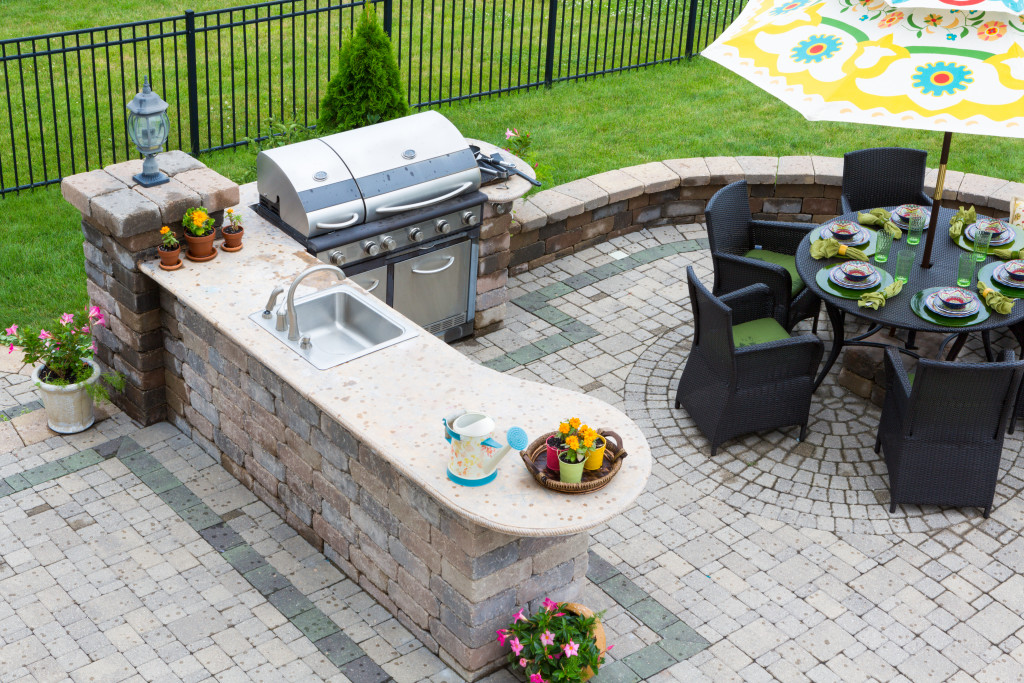 Backyard renovations are a great way to add character and comfort to your home. Creating cozy seating areas with benches, chairs, and hammocks is an easy way to do that this summer. Benches that can be moved and repurposed around the garden provide extra space for seating and create a more attractive aesthetic.
Chairs also come in many different materials, colors, and styles, so you can find one that perfectly fits your style. Hammocks will relax your garden, especially when placed between two trees.
Invest in weatherproof furniture
Weatherproof furniture can be a great way to update your backyard for summertime. Choose durable materials, such as aluminum or wrought iron, and use weatherproof cushions and covers to protect them.
Be sure to look for pieces that are light enough to move around quickly, so you can adjust according to the season and make the most of your outdoor space. Not only is this type of furniture incredibly resilient in harsher conditions, but with careful consideration, you could find designs that will fit almost any outdoor style preference. This type of renovation won't only stand the test of time but will also add fun touches to your garden decor or patio setup.
Add a fire pit or BBQ grill
Adding a fire pit or BBQ grill to your backyard space is an excellent way to spruce up your outdoor enjoyment this summer. A fire pit provides a cozy and inviting atmosphere for family time outdoors and warmth and light in the evenings when it gets chillier.
You can also cook over the open flame of a fire or barbecue grill, which adds an outdoor-dining and entertaining dimension to your backyard. This renovation will allow you to enjoy the outdoors long into fall and winter nights! Just make sure to adhere to local laws regulating any open flames.
Hang string lanterns
Installing string lanterns over your patio table is a great way to spruce up your backyard this summer. It's easy and affordable but can transform the look and feel of your outdoor space. Start by measuring the size and shape of the area you'd like to cover with lanterns, then purchase enough soft white LED lights that will fit without overcrowding.
Next, ensure you have the right fixtures for your setup— wall-mounted or post-mounted hooks can work well depending on where you're installing the lights. Finally, set up a series of hooks and wire the LED lights through them until they hang in an attractive pattern above your patio table.
Incorporate water features
Adding a water feature such as a fountain, stream, or pond to your backyard renovation for the summer is an excellent way to enhance the atmosphere of your outdoor space. Harnessing the power of water can transform your backyard into a tranquil oasis filled with relaxing sights and sounds.
Water features bring beauty and tranquility to an area, and they can also improve air quality in your outdoor living space by helping to cool it down during hot days. Also, incorporating elements like fish or frogs into your design adds life and vibrancy to the environment.
Before taking on this endeavor, consider all options and ensure that those you select are compatible with one another. Also, determine the perfect size and location for each to look aesthetically pleasing and simultaneously function well.
These are just a few backyard renovation ideas that can turn your outdoor space into an oasis for summertime fun. With the right supplies and some creativity, you can transform your backyard into a haven and enjoy the great outdoors all season long!