Many Americans, especially those from younger generations, have discovered the joys of cultivating plants. This trend for gardening, sometimes referred as plant parenthood, has increased in popularity during the pandemic. One reason for its sudden boom is that gardening, even indoor gardening, lets you take care of something with fewer hassles than a pet. It lets people escape from the stress of work and, in some ways, also help you take care of yourself.
If you are a planning to be explore your green thumb, you might be worried that you will need a backyard to do so. But you can be a plant parent even in the heart of the city thanks to hanging plants.
Learn why hanging plants are perfect for indoor gardening, the best types of plants you can cultivate and a few helpful tips for newbies like you.
Why Cultivate Hanging Plants?
If you live in an apartment building or somewhere very urbanized, you may be wondering why you should buy a hanging plant? Why not just get a couple of pots or a window box instead? Although those are both valid ways to grow indoor plants and enhance your gardening skills, here are a few compelling reasons to give hanging plants a shot.
Apartments can have lots of rules that will make it difficult for you to justify dragging pounds of dirt for a window box. But a hanging plant pot doesn't require as much fuss or cause as big a mess as flowerpots or ledge gardens do. You just stick them on a hook or on a support structure and they're good to go!
Few people have the apartment space to set up rows of flowerpots and not every unit will allow or even have room for a planter box. On the other hand, you can get creative when deciding how to plant hanging baskets around your apartment. You can put them on hooks by your windows, leave them on racks in the bathroom and stack them on top of each other with wire shelving. Hanging plants are space savers to the extreme.
Finally, hanging plants freshens up your apartment in different ways. They let your eyes rest on relaxing greenery without having to go outdoors. Plants secrete moisture through their cells and can help make your home cooler. And they can make enclosed spaces like your bathroom less stuffy. A hanging plant can also reduce your stress levels just by being there. 
What are the Best Types of Hanging Plants?
Wondering which hanging plant to buy from your local garden center? Here are some of the best specimens you can consider for your apartment.
Ripple Peperomia
A small hanging plant with lovely patterns on its heart-shape leaves. They are available in a wide range of colors, including a muted red, creamy white and glossy green. Their unique ripple pattern and texture make them excellent for dining rooms, especially since they require only a little moisture and reducing the risk of drips. However, they do require some sunlight, so situate them close to windows.
Trailing Jade
A tropical plant that usually grows on rocks and crags. They have thick leaves that grow in circles. Trailing jade presents unique opportunities for hanging plant pots because you can just use some stylized rocks or clay sculptures to grow them on. This plant needs very little water but modest sunlight. You should also trim its stems often because they can grow quite long.
Chenille Plant
A visually stunning plant with wide, rough leaves and vibrant fuzzy pistils. They can have pink or red flowers with feathery pistils reminiscent of feather boas dangling from them. They need lots of water so make sure their hanging plant pots can retain fluid and prevent drips. You can hang them near areas you want to draw the eye to, such as near some posters or similar center piece. Or you can put them in areas that don't have much decoration like your bathroom or kitchen to give them a pop of color.
Boston Fern
A hanging plant that enjoys humid environments, the Boston fern is best contained in a woven basket that allows moist air to filter into its roots. Because they enjoy water in the air and require frequent moisturization, they are perfect air purifiers for your bathroom. They will thrive in enclosed spaces beautifully because they don't require much sunlight either.
How Do You Take Care of Hanging Plants?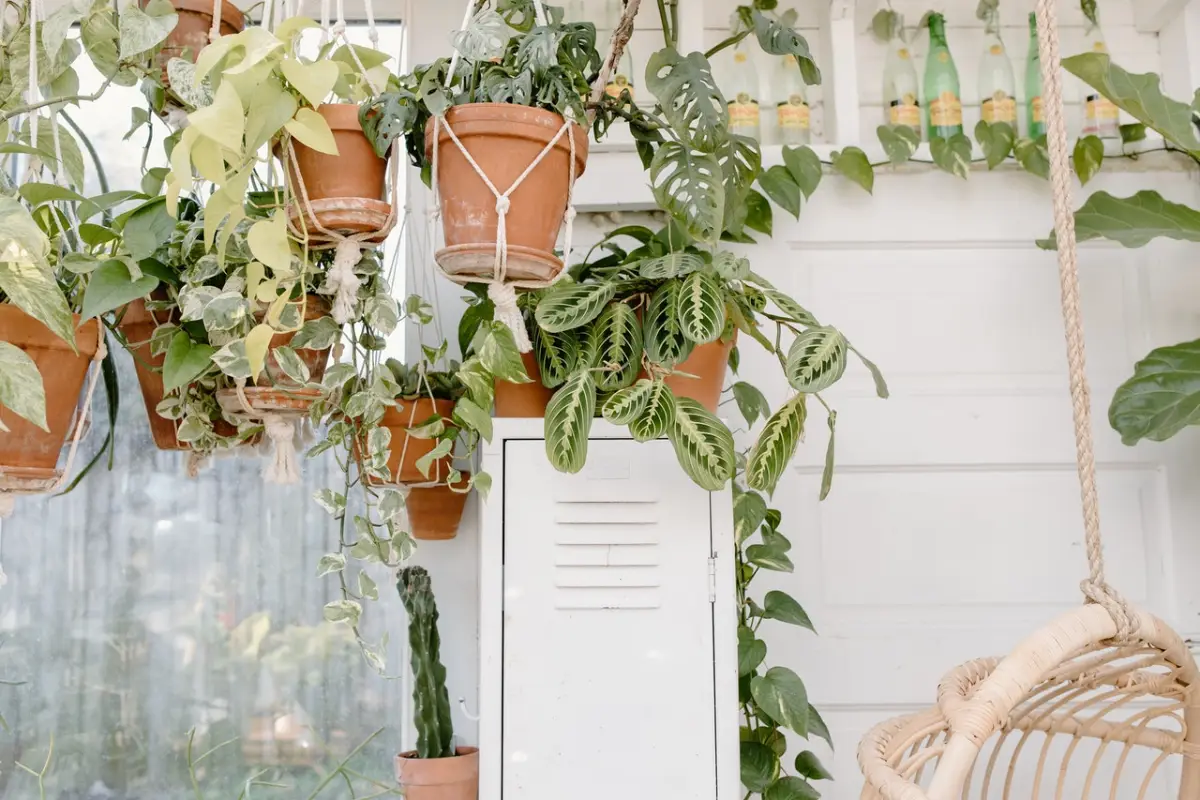 If you are finally convinced to adopt a hanging plant, here are a few tips you can find useful when taking care of your vertical garden.
Choose the materials for your hanging plant pots to accommodate their needs. Plants that require only a little water will grow best in plants that drain away moisture such as porous pottery. On the other hand, plants that need plenty of water may need plastic pots that help retain all fluids.
Location, Location, Location
A key part of how to plant hanging baskets is learning where to put them up. Plants that require a lot of sunlight should be strung up in balconies and near your windows. If a plant only requires a little sunlight, they are same to put up in the middle of rooms with lots of windows. If they only need a little sunlight, they should do well in areas like your bathroom.
The root system of a hanging plant is more prone to desiccation because they are exposed to more air. This is why even though they require a little water, you should consult with a gardening specialist on how often a particular species requires watering.
Hanging plants are sensitive to temperature and sunlight, so you have to keep an eye on the weather. If you have ones hanging outside your window or in an outdoor space, be sure to bring them inside if possible. You should also be wary of the temperature controls inside your home as running your thermostat too hot can cause wilting.
Hanging plants, alongside succulents, are ideal for beginner gardeners. If you want to explore your green thumb and see if you have what it takes to be a plant parent, then head on over to the nearest garden center.