People often forget that the exterior of their home is just as important as the interior. After all, the first impression guests have of your home is its exterior, so it's essential to make sure it looks good.
There are many ways to upgrade the exterior of your home, but which ones offer the best results? Here are some ideas to consider.
Upgrade your walkway.
Walkways are one of the first things guests see when they come to your home, so it's essential to make sure they're in good condition. However, foot traffic over time can take its toll on walkways, causing cracks and more.
There are several options for upgrading your walkway, including replacing it with concrete or installing a new paver. Many home improvement stores offer walkway kits that make it easy to DIY a new walkway. But if you want to ensure you're doing it the right way, consider talking to a general contractor to help you choose the best choice for your home.
No matter what material you choose for your walkway, ensure it's properly maintained. It will help ensure your home always looks its best and give guests a great first impression when they come to visit.
Add new landscaping.
Landscaping can be a great way to upgrade the exterior of your home and make it look more attractive. Whether you want to add flowers or plants, a fountain, or other features, many landscaping options are to choose from.
However, it's essential to consider the maintenance required when adding new landscaping. Some types of landscaping may require more time and effort than others, so make sure you're ready for that before making any decisions. It would also be helpful to consider the climate in your area. Some plants and flowers may not do well in specific environments, so choosing suitable ones is essential.
On the other hand, you can still have a landscape using artificial turf. This alternative eliminates the hassle of watering and mowing the lawn and other concerns that come with live grass. If you're considering this option, check out different artificial turf types to see which one would be best for your home.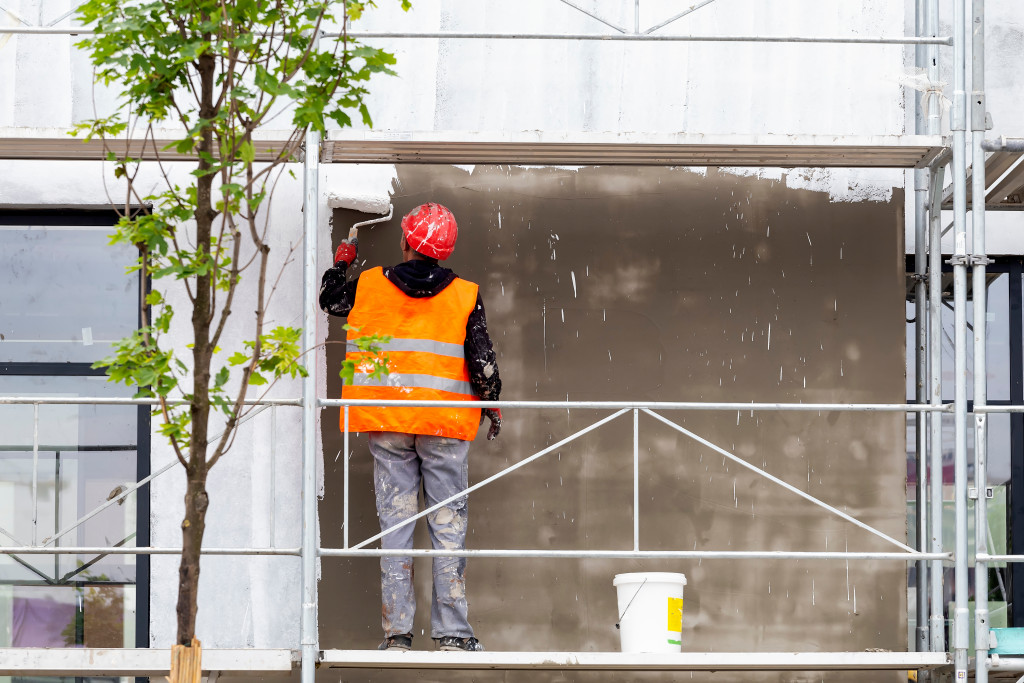 Paint or stain your home exterior.
A fresh coat of paint or stain can make a big difference in how your home looks. If your home looks faded or worn, consider giving it a new paint job. You can either do it yourself or hire someone to do it.
You can choose the right paint or stain for your home's exterior. Depending on your home's exterior material, specific options may be better than others. So do your research to ensure you choose the best choice for your home.
In addition to choosing the right type of paint or stain, it's also essential to take care of it properly once you've applied it. Make sure you follow all instructions carefully so that your home's exterior always looks its best.
Power wash your home exterior.
Sometimes, the only thing your home exterior needs is a good cleaning. Over time, dirt and grime can build up and make your home look old. A power wash can help remove all that dirt and grime, leaving your home looking new again.
Power washing a home requires special equipment, so it's best to hire a professional if you're not comfortable doing it yourself. But if you do it yourself, make sure you read the instructions carefully and take all necessary safety precautions.
It's also crucial to perform power washing at the right time. Doing it in the spring or summer is often best since you want to protect the exterior from freezing temperatures in winter. So it's essential to plan and schedule your power wash for the appropriate time of year.
Incorporate modern and stylish elements.
Of course, a beautiful outdoor space doesn't have to be all about function. You can also add some fun and stylish elements to make your home exterior stand out from the crowd. It can be anything from a custom railing or fence to outdoor furniture and lighting fixtures.
If you're unsure what type of modern and stylish touches would look best on your home, consider consulting a designer or contractor. They can help you choose the right elements to add to your home and make sure everything looks great together.
You can also browse the internet for inspiration and ideas on what you might like to add. Doing this can give you some great ideas that will help guide your design choices in the future. And it can help ensure your home exterior is always looking its best.
Have you decided to give your home exterior an upgrade? You have many great options to consider, including upgrading your walkway, adding new landscaping, painting or staining it, power washing it, and incorporating modern and stylish elements. Whatever you decide to do, make sure you take the time to research and plan your project correctly so that you can achieve great results.