The holiday season is a great time to spruce up your home and add festive cheer to your neighborhood. What better way to do this than transforming your landscape into an enchanting winter wonderland? Whether you have a large, sprawling yard or a small patch of grass, there are plenty of creative ways to decorate for the holidays. From twinkling lights and classic evergreen garlands to unique decorations, these four tips will help you transform your landscape for the holidays.
1. Put up Holiday Lights
Holiday lights are one of the most classic and iconic holiday decorations. Whether you hang strings of twinkling white lights or bold strands of multicolored bulbs, a few lights can instantly transform your landscape and create a festive atmosphere. You can hang them along the roofline, around trees, or along railings. When stringing up lights, use LED lights for energy efficiency and safety.
When you are ready to begin, make sure you have a plan for how and where the lights will be hung. Start by measuring the area you plan to hang your Christmas lights to buy enough of them. Additionally, consider how many outlets you will need for outdoor extension cords if needed. If this is your first time installing Christmas lights, you may want to enlist the help of a professional to ensure that the job is done correctly. Professional installation for Christmas lights can provide expert advice and help ensure your holiday decorations look great. Most importantly, they will ensure your lights are safely connected and securely hung.
Once all the lights are hung, plug them in to ensure they all work before you start decorating with other items, such as garlands, wreaths, and ornaments. Inspect the cords and lights for any frayed wires or burned-out bulbs. If you find any faulty bulbs, replace them before proceeding.
2. Decorate With Greenery
Evergreen branches are perfect for the holidays because they can instantly add life and color to any landscape. Use them to line walkways or hang them on walls and fences. You can also use sprigs of holly, pine cones, and mistletoe to make wreaths, garlands, and centerpieces that will bring holiday cheer to every corner of your yard.
When decorating with greenery, there are a few key things to remember. Use different colors and textures for interest. For example, combine boughs of spruce and fir with pine cones or holly berries. For wreaths and garlands, wire them together rather than using glue or tape, as these materials can be challenging to remove. If you're using lights, use LED ones as they are more energy efficient and brighter than incandescent bulbs.
Greenery decorations can last for months when done correctly, so take the time to do them properly and carefully. Ensure your greenery is securely held and lights are correctly wired.
3. Add Festive Accents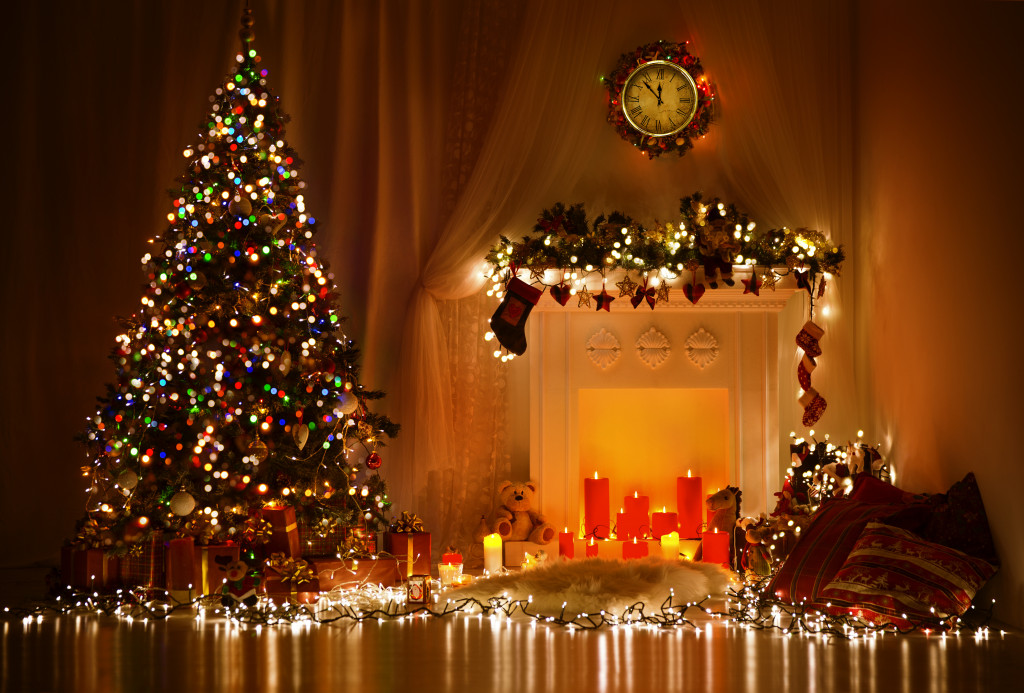 You can use festive accents to add holiday cheer to your landscape. From statues and sculptures to lanterns, birdbaths, flags, and banners, there are many ways to bring a little extra sparkle and shine to your yard. You can also try using columns of evergreen trees along walkways and paths to create a magical forest-like atmosphere.
When selecting accents, choose pieces that match the style of your home and landscape. Opt for pieces made from materials that withstand outdoor elements such as wind, rain, snow, and sun. If you're using solar lights or decorations, ensure they are placed in an area with plenty of sunlight.
Finally, keep in mind the style and placement of your accents when decorating. Incorporate them into your landscape design to look natural and cohesive with the existing elements.
4. Put Up a Holiday Display
An outdoor holiday display can give you a chance to get creative with your decorations. You can use traditional displays like blow-up snowmen and reindeer cutouts or create something unique like an igloo made of Christmas tree branches. The possibilities are endless! Remember to keep safety in mind when setting up any large displays on your lawn—you don't want them to be a hazard for passersby.
When designing your holiday display, consider using a combination of decorations. You can find pre-made displays or create something yourself with items you already have. For example, add a few festive pillows to your seating area and hang some Christmas flags around your porch. If you're feeling more adventurous, try making a gazebo or gingerbread house out of snow.
In Summary
These four tips will help you transform your landscape for the holidays! Whether you're going for traditional decorations or something more creative and unique, you'll be sure to create a festive atmosphere that everyone in the neighborhood can enjoy. So, get creative and have fun decorating your outdoor space this season!