Consider installing a solid surface countertop, such as granite or quartz, for a durable and weather-resistant food prep and serving surface.
Incorporate storage cabinets, drawers, a refrigerator, and an outdoor bar cart to make your outdoor kitchen more functional.
Enhance the atmosphere of your outdoor living area with solar-powered lights, LED lights, and other weather-resistant lighting fixtures.
Select comfortable and stylish furniture made from materials such as wicker, metal, or teak that can withstand the elements.
An outdoor living area can take your backyard to the next level, providing a space to relax and entertain guests. With the right design elements, your backyard can become an inviting oasis in which you'll love spending time. But with so many potential options, the decision-making process can seem overwhelming. Here are some ideas to consider when designing your outdoor living area:
Outdoor Kitchen
An outdoor kitchen is a great way to take your entertaining game to the next level. It provides a space to cook and prepare food while enjoying the beautiful outdoor scenery. However, you must consider essential elements that will make your outdoor kitchen functional, such as the following:
Install a Solid Surface Countertop
One of the most critical elements of an outdoor kitchen is the countertop. It needs to be durable, weather-resistant, and easy to clean. A solid surface countertop, such as granite or quartz, is a great option. It can withstand the elements and provide a beautiful and functional food prep and serving surface.
But getting this countertop installed correctly is essential. Make sure you hire a reliable solid surface installation specialist who can install the countertop and seal it properly to ensure its protection against moisture. This way, you can enjoy your outdoor kitchen for many years to come.
Incorporate Storage and Refrigeration
To make your outdoor kitchen more functional, you'll need storage space for utensils, plates, and cooking equipment. You'll also need refrigeration to keep your food and beverages cold. Consider incorporating cabinets, drawers, and a refrigerator into your outdoor kitchen design.
Today, there are many stylish and weather-resistant outdoor storage options available. You can choose between stainless steel, wicker baskets, and other outdoor-friendly cabinets. Another great option is an outdoor bar cart, which can also be used to store glasses and other items.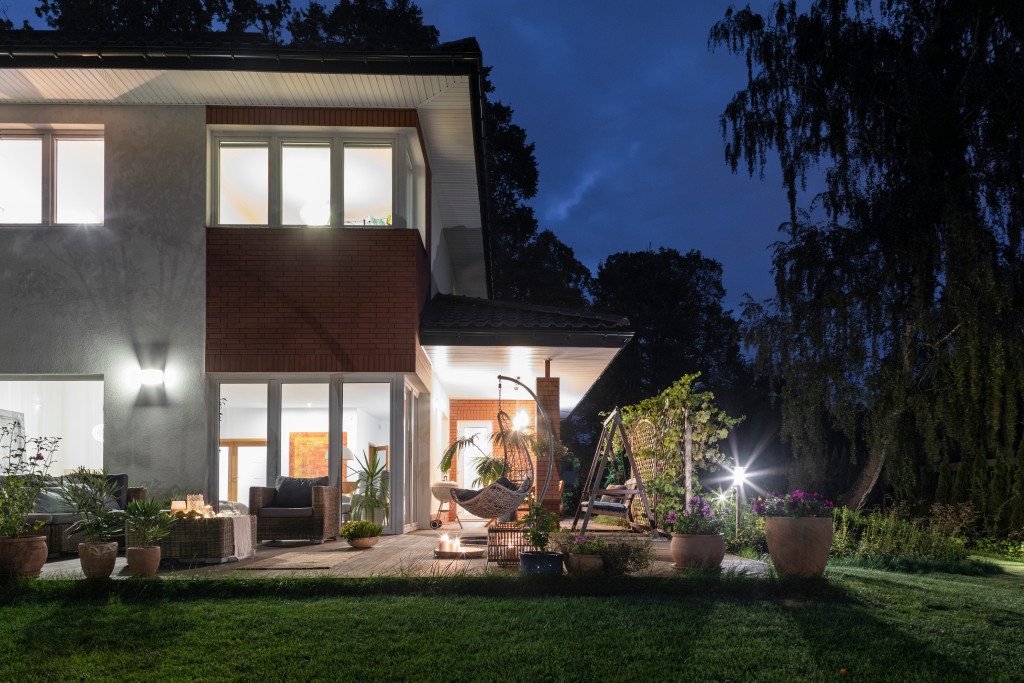 Add Outdoor Lighting
Outdoor lighting can transform your backyard into a magical space at night. It can create ambiance, highlight landscaping, and provide safety and security. Here are some ideas to consider when adding outdoor lighting.
Use Solar-Powered Lights
Solar-powered lights are an excellent option for outdoor lighting. They don't require any wiring, so they're easy to install. They also don't add to your electricity bill since they are powered by the sun.
You can invest in a few solar light fixtures or a whole system. Many outdoor lighting systems come with motion sensors, dimmers, and other features that allow you to customize the brightness and intensity of the light. These systems are easy to install and will provide your backyard with an attractive, energy-efficient lighting solution.
Add LED Lights
Consider incorporating LED lights if you want to add some extra pizzazz to your outdoor living area. They come in many colors and shapes and can create ambiance and provide visibility. You can hang them from the ceiling, place them around your patio furniture, or incorporate them into other decor elements.
However, LED lights tend to be pricier than other lighting options. Also, they require a power source and professional installation, so you must factor these costs into your budget.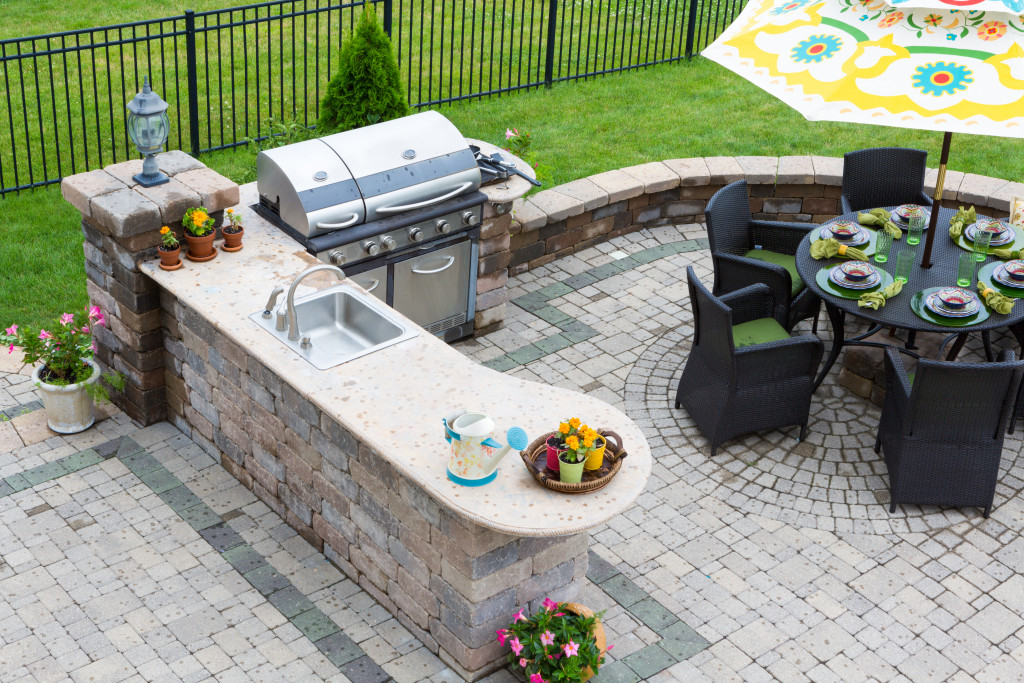 Outdoor Furniture
Your outdoor living area won't be complete without comfortable and stylish outdoor furniture. But with so many options, it can be hard to decide on the right furniture for your space. When selecting outdoor furniture, you should consider the following:
Choose Weather-Resistant Materials
Since your outdoor furniture will be exposed to the elements, it must be made of weather-resistant materials such as wicker, metal, or teak. These materials can withstand rain, sun, and wind without fading or deteriorating. By investing in weather-resistant furniture, you can enjoy your outdoor living area for many years to come.
Select Comfortable and Stylish Pieces
Your outdoor furniture should not only be functional but also comfortable and stylish. Consider investing in plush cushions, throw pillows, and outdoor rugs to create a cozy and inviting space. When selecting furniture, ensure it complements the overall design of your outdoor living area. This way, you can create a beautiful and inviting space for yourself and your guests.
Designing an outdoor living area requires careful consideration of various elements, such as those mentioned above. By incorporating these ideas into your design, you can create a beautiful and functional outdoor living area that you and your guests will enjoy.