Have you ever driven by a business and thought, "That looks terrible!"? First impressions are important, especially when it comes to commercial companies. Customers may not even stop in if your business has poor curb appeal. That's why many commercial businesses are looking for ways to improve their curb appeal. This is the first thing customers see when they drive or walk by, and it can make or break their decision to stop in.
Some of the benefits of having an appealing building exterior are:
You'll attract more customers and foot traffic.
People will perceive your business as being of higher quality.
It gives the impression that you will also care for your customers.
If you want to add more value to your business, here are five ideas to improve commercial curb appeal:
Spruce Up Your Entrance Doors and Windows
Customers may not even stop in if you don't have an appealing entrance. This is the first thing customers see when they drive or walk by, and it can make or break their decision to stop in.
One way to create an inviting space is by giving your entrance doors and windows a makeover. This doesn't have to be too drastic – simply adding a fresh coat of paint can go a long way. You can also add some greenery or flowers near the entrance to give it a more welcoming feel.
You may also try replacing your doors and windows if they are outdated or in poor condition. This will give your business an instant face-lift and make it more appealing to customers. Some door ideas include adding glass inserts or even upgrading your door handle. For windows, you can add some shutters or awnings.
Make your landscaping pop
Your landscaping is a huge part of your curb appeal. If it's unkempt, it will make your whole property look bad and unclean. You want to ensure your lawn is mowed, leaves are raked, and the bushes are trimmed. Add some color with flowers or plants. If you have a lot of concrete, you can break it up with pavers or stones.
This cannot be done overnight and will require some expertise from a professional landscaper. They can help you come up with a design that will complement your business and attract more customers. These experts can also help you choose the right plants and flowers for your climate and soil type. Their services may include lawn mowing, fertilizing, weeding, pruning, mulching, and planting.
Another idea that is popular now is to add an outdoor seating area. This can be a great spot for customers to wait for their order or take a break. Adding some tables and chairs will make it more inviting and make your business look more welcoming.
Install Outdoor Lightings
If your company building outdoor has no lighting, it can look dark and scary at night. This will deter customers from coming in and make them feel unsafe. Burglars may also take advantage of the dark surroundings to commit crimes, such as stealing from your business.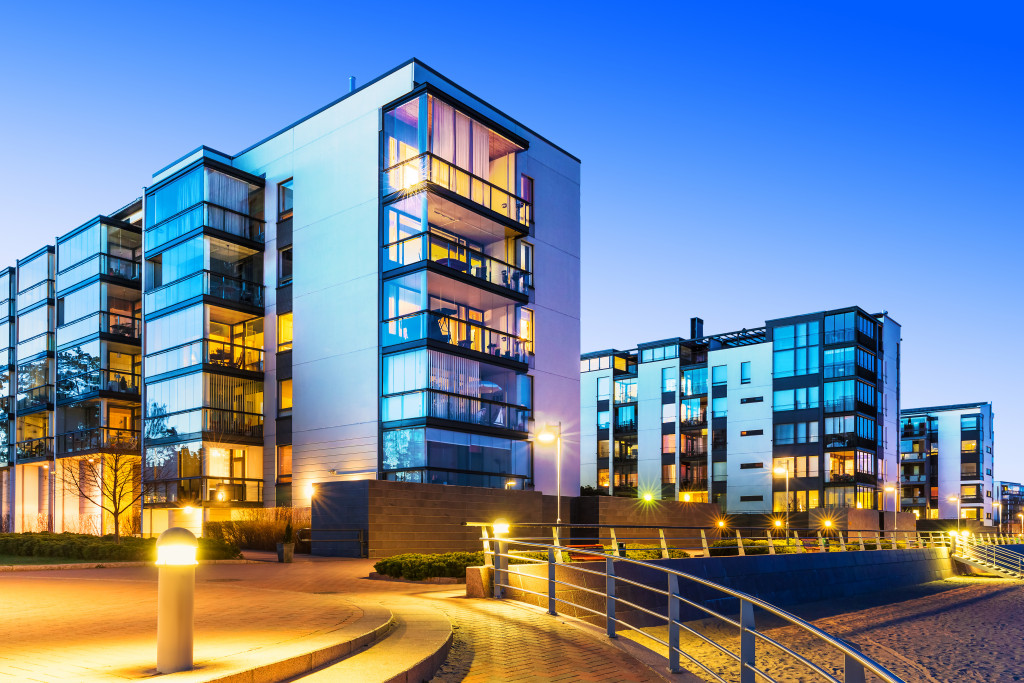 Adding outdoor lighting is an easy way to improve your curb appeal and make your business more attractive and safer for your customers and employees. There are many different types of outdoor lighting you can choose from. Some popular options include:
Wall lights
Floodlights
Security lights
Motion sensor lights
Landscape lights
Post lights
Tidy Up Parking Lots and Sidewalks
If your company's parking lot and sidewalks are not tidy, customers may feel unsafe or uncomfortable coming in. Not only will this make customers feel unwelcome, but it can also be a safety hazard. Untidy sidewalks and parking lots can cause people to trip and fall, leading to severe injuries.
Your parking lot and sidewalks are an extension of your property, so you want to ensure they're well-maintained. Be sure to regularly sweep and clean your sidewalk and parking lot. You may also want to consider pressure washing them from time to time to remove any built-up dirt or grime.
You should also fix any cracked sidewalks or potholes as soon as possible. This will make your business look more professional and eye-catching, and it will also prevent any accidents.
Put Up Your Business Signage or Logo
People may not know what business it is if you don't put up your company's logo. This can discourage them from coming in, especially if they're unfamiliar with your company. A professional logo is a must for any business. It helps customers identify your company quickly and easily.
Your business signage should be visible and easy to read from the street. It should also be illuminated if possible, so it can be seen at night. You want to make sure your logo is professional and reflects the image of your business. If you don't have a professional logo, you may consider hiring a designer to create one for you. Also, it may be time for an update if it's old or faded.
Improve Your Curb Appeal
These are just a few ideas to improve commercial curb appeal. Improving your commercial curb appeal doesn't have to be difficult or expensive. By following these tips, you can make your business more attractive to customers and attract more business. Soon, your business will be the talk of the town for its great curb appeal!