Most people know that the exterior of their home is essential. It's one of the first things people see and can make a lasting impression. But many people don't know how to make their outdoors look fabulous. This blog post will give you some tips on how to improve the exterior of your home.
With these tips, you can take your home from drab to fab in no time!
Start With the Front Door
The front door is the first thing people see when they come to your home, so it's important to make a good impression. You can start by painting your front door a bold color. Red is always popular, but you can also try blue, green, or black. You can add a decorative wreath or door knocker if you want to make a tremendous impact.
Here are some other tips for making your front door look great:
Ensure the door is in good condition and the paint is fresh.
Add a welcome mat or doormat to give visitors a place to wipe their feet.
Add some potted plants on either side of the door for a pop of color.
These are just a few ideas to get you started. With a little bit of creativity, you can make your front door look amazing!
Don't Forget the Driveway
With so much focus on the front door, it's easy to forget about the driveway. But the driveway is another important part of your home's exterior. After all, it's where people park their cars when they come to visit. You can improve the look of your driveway by power washing it and removing any stains. You may also want to consider resealing it to protect it from the elements.
Another way to improve the look of your driveway is to add some decorative elements. For example, you can line the driveway with potted plants or stones. You can also add a unique mailbox or house number sign. These small touches can make a big difference in the overall look of your home.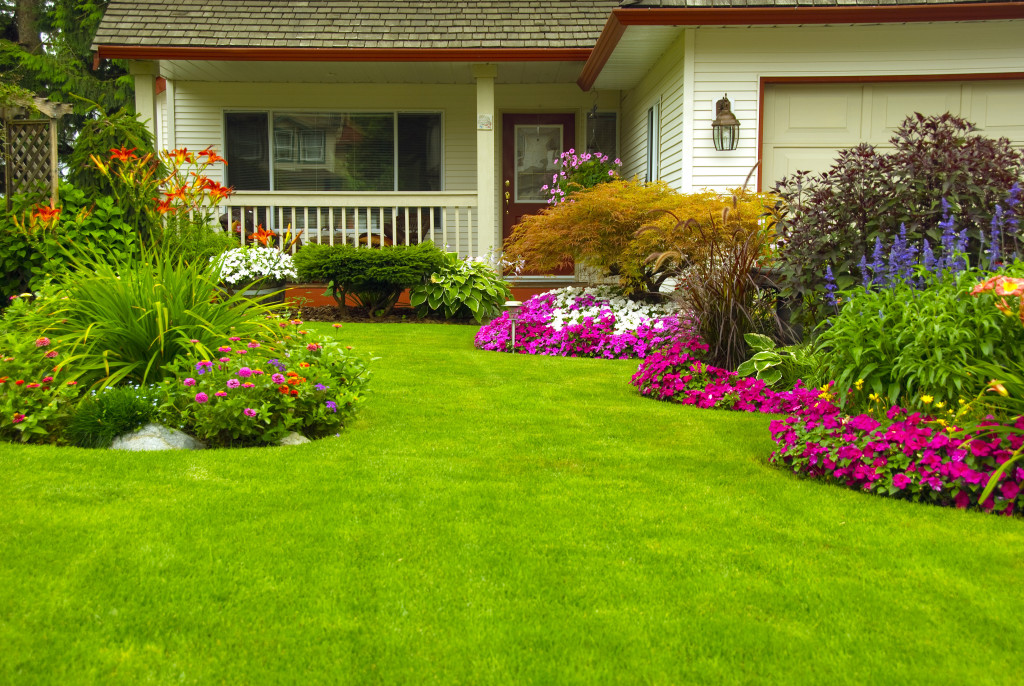 Make the Most of Your Yard
What's a home without a beautiful yard? If you're not happy with the way your yard looks, there are some things you can do to improve it. First, make sure the grass is green and healthy. You may need to fertilize it or reseed it if it's patchy. You should also consider adding some landscaping features, such as flowers, shrubs, or a garden. These can add color and life to your yard.
Another great way to improve the look of your yard is to add outdoor furniture. This can include a patio set, an outdoor rug, and some potted plants. With these simple additions, you can transform your yard into a relaxing oasis. Not to mention, it will be the perfect place to entertain guests!
Add a Unique Structure
If you have the space, consider adding a structure to your yard. For example, you can add a patio to create an outdoor living space. This can be a great place to entertain guests or relax on a warm day. You can also add a pergola or gazebo if you want to create a more romantic setting. These structures can really improve the look of your outdoor space and make it more inviting.
Here are some things to consider before adding a structure to your yard:
Check with your homeowner's association to see if there are any restrictions.
Get permission from your local building department before starting any construction.
Hire a professional contractor to help you with the project.
Keep Up With Maintenance
Once you've made improvements to the exterior of your home, it's important to keep up with maintenance. This means power washing your siding and gutters, as well as painting your trim. You should also regularly check your roof and windows to ensure they're in good condition.
You may also want to hire a landscaping company to help you with lawn care. They can mow your lawn, trim your hedges, and do other tasks to keep your yard looking its best. This will free up your time so you can enjoy your beautiful home. Also, don't forget to clean your outdoor furniture and structures on a regular basis. With a little bit of effort, you can keep your home looking fabulous all year round!
Now that you know how to make your outdoors look fabulous, it's time to get started. With these tips, you can transform your home into the envy of the neighborhood. So get to work and enjoy the results!