As the years go by, your home starts to show its age. Whether it's the paint starting to chip or the floors beginning to creak, there are plenty of ways that your home can start to look a little worse for wear.
If you're looking to add value to your property or just want to make your home more comfortable and inviting, undertaking some home improvement projects is a great idea. But with so many different options available, it can be hard to know where to start.
To help you out, here's a list of the most popular home improvement projects that are worth trying this year. These projects will make a big difference to your home, from updating your kitchen cabinets to adding a new coat of paint to your walls.
So if you're ready to improve your home, read on for the most popular home improvement projects you should try!
Give Your Kitchen Cabinets a Makeover
One of the most popular home improvement projects is giving your kitchen cabinets a makeover. If your cabinets look old and tired, painting them or replacing the hardware can give them a whole new look. This refreshes the whole kitchen and can be a relatively inexpensive project to undertake.
If you want to go one step further, you could also consider replacing your kitchen cabinets entirely. This will give your kitchen a completely new look and feel and can add significant value to your property. However, it is a much more expensive project, so it's important to consider the cost before deciding.
Update Your Bathroom
Another popular home improvement project is updating your bathroom. You can start by cleaning your bathroom deeply and adding some new fixtures and fittings. By changing the taps, shower head, and toilet seat, you can give your bathroom a fresh new look.
Alternatively, you could undertake a more extensive renovation and add new tiles, a vanity unit, or even a walk-in shower. This will make your bathroom much more luxurious and add significant value to your home. Just remember to factor in the project's cost before you get started, as bathroom renovations can be expensive.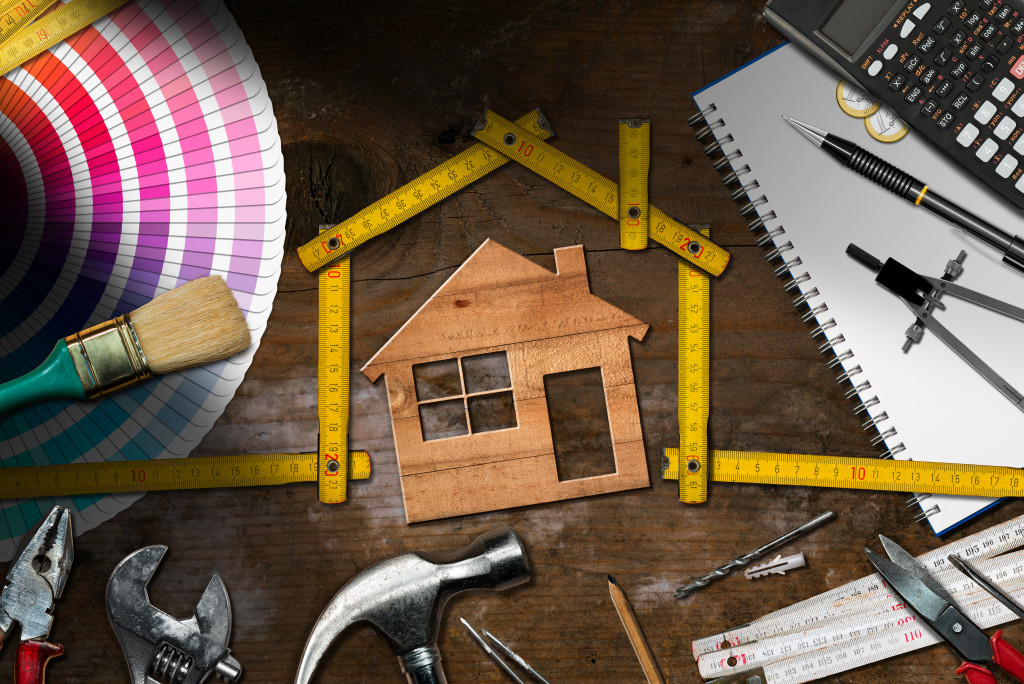 Add a Fresh Coat of Paint
A fresh coat of paint can work wonders for your home. It's a quick and inexpensive job, but it will significantly impact the appearance and feel of your home. You can change the mood and atmosphere of a room by painting it in a different color, and it's a great way to add your own personal style to your home.
If you're not sure what color to paint your walls, consider hiring a professional interior painter to help you out. They will be able to advise you on the best colors to use to achieve the look you want. If you intend to do it on your own, test the paint colors on a small section of the wall before committing to painting the whole room.
Replace Your Flooring
You'll be surprised at how much difference new flooring& can make to your home. If your carpets are looking worn or your hardwood floors are starting to show their age, replacing them can give your whole house a fresh new look. Much like painting your walls, replacing your flooring can change the atmosphere of a room and make it feel more comfortable and inviting.
There are many different types of flooring to choose from, so it's important to select the right one for your needs. Carpet is a good choice for bedrooms as it's soft and comfortable, but hardwood or laminate floors are more durable and easier to keep clean. Whichever type of flooring you choose, make sure to factor in the installation cost before making your final decision.
Upgrade Your Windows and Doors
If your windows and doors look old and worn, replacing them can significantly improve your home. Not only will it improve the appearance of your property, but it will also make it more energy-efficient. This is because new windows and doors are much better at keeping the heat in and cold out.
If you live in an older property, you might also want to consider installing double-glazed windows. This will improve your home's energy efficiency and reduce your heating and cooling bills. Just be aware that double-glazing can be expensive, so it's important to factor in the cost before making a decision.
Bottom Line
These are just some popular home improvement projects you should try this year. By undertaking one or more of these projects, you can add value to your home and make it more comfortable and inviting. Of course, different projects will suit different homes and budgets, so choosing the right one is important. With a little planning and research, you're sure to find the perfect project for your home!