Having a backyard is such a fantastic thing. Most people take it for granted because they're used to it, but so many homeowners and renters can't enjoy having a green space that's completely theirs. If they wanted to go out and touch some grass, they would have to head to the nearest park to do so.
But you have one within arm's reach. This means that you already have an automatic venue for your outdoor gatherings, family weekend barbecues, and pool parties if you have a real-life or inflatable pool. Whatever the occasion, you'll already have a place for it, so you should maximize it when you can.
Don't let the idea of cleaning up all the trash and mess after a party hinder you from becoming a good host. Aside from the fact that you can always ask for help from your family and friends when you're cleaning up, it can also be a good way to spend extra time with them after all the party buzz has faded.
So try not to let your beautiful backyard be neglected and wasted. Instead, you should do what you can to maintain the yard and make sure that it's always prepped for a spontaneous celebration. If you don't know how to do that, you've come to the right place. Here are four ways to prepare your backyard for an outdoor party:
Set up Your Grill
If you're fond of holding barbecue parties, then it might be wise to invest in a good grill. You don't have to buy the most expensive one on the market to do that, but you can shop around and look for reliable brands that are worth every penny. That way, you can call for a barbecue every time you want to.
It's also a good practice to create a space where you can set up your grill. Make sure that it's somewhere with a roof so that your grill won't get rusty and corrode because you've left it out in the rain. If you want to, you can even make room for it on your patio or near your garage, whichever is more feasible.
Redesign Your Patio
Being a good host means that you can accommodate your guests in your house and make them comfortable. That's why this can be the best time to redesign your patio and invest in sturdy outdoor furniture. You can even have retractable window awnings installed so that you can hold both afternoon and night gatherings in your backyard.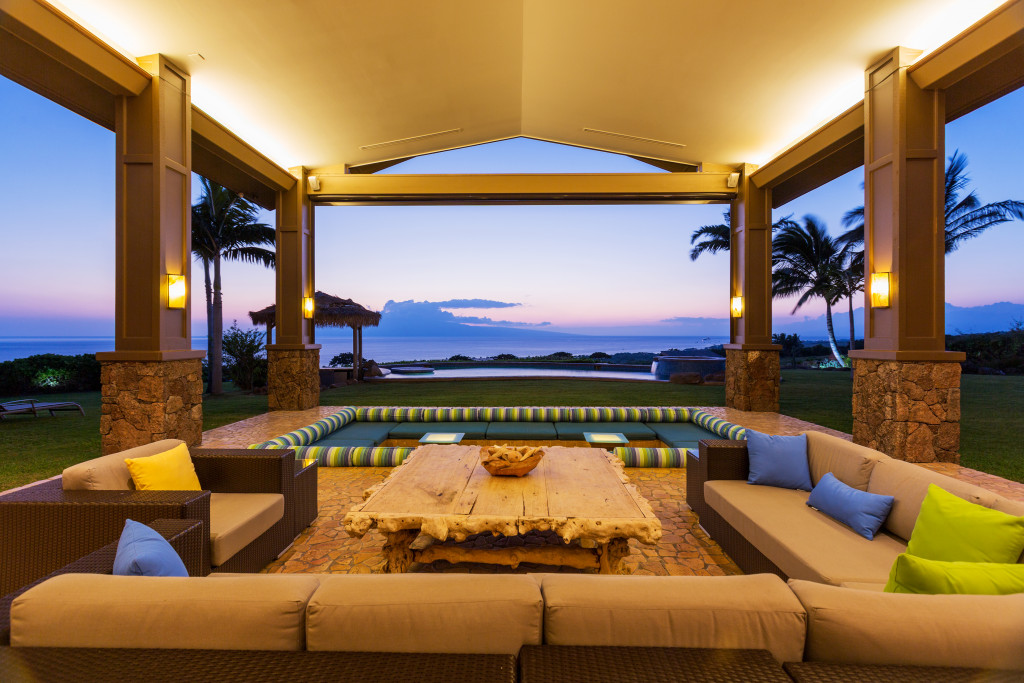 The most important thing is that your patio will have a welcoming atmosphere that can add to the aura of your parties. Plus, it can be great if you have a certain aesthetic for the design. For instance, you can go for a more rustic feel by placing crawling vines on the posts or installing twinkle lights.
Install Good Lighting
If you're planning to hold events at night, it would be best to make sure that your backyard has ample lighting because you wouldn't want anyone to get into accidents in the dark. Even simple LED light bulbs or lamp posts will do, provided that they can make your backyard well-lit and safe for the guests.
Of course, you don't have to spend too much money just to get good lighting. After all, you can always take the DIY route here and install your own lights around the backyard instead of hiring professionals. There are plenty of tutorials online at your disposal; just make sure that they're appropriate for your case.
Do Some Landscaping
Lastly, the one thing that you should never forget is to do landscaping in your backyard. Basic backyard maintenance is good for regular days, but if you're inviting guests over for a celebration, then you might want to go the extra mile for them. This way, you'll have freshly cut grass and trimmed bushes for the event.
But landscaping isn't always just for aesthetic purposes. Landscaping can help ensure that your grass and soil are healthy enough or that you're not harboring pests in your backyard. So don't discount the importance of doing landscaping before you can reap the benefits it can bring.
Backyard gatherings can be so fun, not only for the adults but also for the kids who are coming along. This is because outdoor events are rare these days, so most people take all the sun and fresh air they can get. Allow your loved ones to enjoy being in nature from the comfort and safety of your backyard because they may not always get the chance to.