Little things can come a long way when it comes to giving your outdoors a makeover. There are always some ways to renew and brighten up your home's outside features without making a hole in your bank account. Whether you have a front porch, a living room on your garden, a deck, or a patio, you can make low-cost moves to create impactful changes.
If you're looking to upgrade your home's outdoor area, yet not willing to spend that much, then you've clicked the right article. Here are some suggestions to make changes to your outdoor living space:
Beautifying Your Front Porch
The front door is the first thing the eye is drawn upon when people walk by and see your house's exterior. Buy a fresh paint of your choice and paint the front door. Go for a bright or noticeable color that can stand out among the rest of your porch. If you're feeling less brave, you can just repaint it the same color or a new neutral tone.
You can plan a color scheme and paint it accordingly. Once you're done with the front door, add a seating area if you haven't already. If you do, you can throw in some new throws and a new coffee table the goes with the design you're going for. A porch swing is a classic front porch element that you can add onto there and add a touch of modern design.
Makeover for Your Deck or Patio
Consider energy-efficient features like solar lighting. It's low-maintenance and you wouldn't have to switch it on and off. They just light up once it gets dark enough, then fade out a couple of hours later. Since it runs on solar power, you wouldn't have to bother with electrical wirings or extension outlets. Solar-charged batteries get recharged every day and lights like these can withstand any weather.
Every resident is entitled to their privacy. If you feel like it's not enough on your deck, put up a screen. May it be new tall fences, or you can plant trees. You can also build or buy lattice panels, a trellis, or a pergola.
If you're looking to add color and character to your deck, you can look into an outdoor rug of your choice. It is low-cost, yet provides a big impact and creates a new look for your outdoor area.
Pressure washing your deck and patio can also make a difference. With this, you would notice that your deck had brightened and you'd feel more comfortable staying on it.
Improving Your Garden Living Space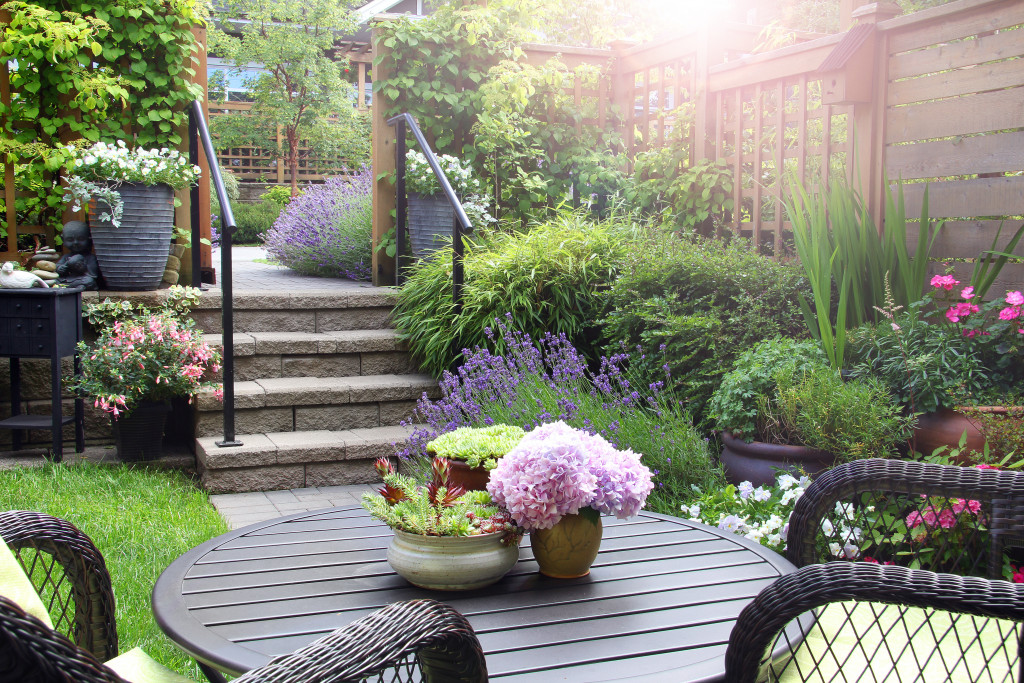 First things first, wash your outdoor furniture—the sofa, benches, tables, and chairs. Once you're done with that, you can add new throws or go into container gardening to create a more homey vibe.
You can add more warmth by building a fire pit. Just be sure to always acquire safety. If a fire pit isn't your best choice, you can go for a general heater and install a ceiling fan to have better air circulation and quality.
Add a water feature. If you have a pet, just be sure the water is clean enough because they would most likely drink from it. Speaking of pets, you can upgrade with some pet-friendly elements and have obstacles built. If that's too much, just go for a simple designated area for them, like a doghouse or a sandbox for them to dig on.
Improve your fencing to create a safer place for your pets. You might want to add seclusion fencing to divide your garden and your living space. This way, it would look aesthetic and organized. Trex seclusion fencing cost, for example, is affordable, durable, and environment-friendly, giving you the feeling of renewal and satisfaction.
Boosting Your Landscape
Your landscape is a significant factor for a better-looking outdoor living space. With this, establish a stronger foundation for your living room and create more areas where plants, trees, and flowers would grow. If you're someone who's always busy, consider an all-year-round garden and plants that can survive in any season. There are flower options that can brighten up your outdoors all year with proper care and maintenance.
You can try ways of gardening you haven't done before. Container gardening can be a good option. You can plant your own herbs and vegetables. Although, be careful if you have dogs running around because some vegetable plants—like chives, onions, and garlic—are poisonous to them. Also, you don't want them to ruin your plants, so keep them away as much as possible.
Making changes to your landscape or living areas doesn't have to be huge at a single time. Take your time to create a spot in your home where you feel most comfortable and yourself. This way, you will see all the hard work you've done to it and thank yourself.