A garden may be an excellent way to unwind, vent, and stimulate your mind. Doing outdoor activities while tending to your plants might be beneficial to your mental health. Statistics show that those who routinely care for their gardens have a lower risk of dementia.
Although most outdoor makeovers are costly, there are a number of inexpensive ways to liven things up. Creating a fresh, pleasant ambiance outside is just as vital as sprucing up your house's interior.
If you want to update your outdoor area with a modern design for a garden, patio, or yard, consider the following improvements.
1. Get a Wooden Canopy
Patios are a natural choice for outdoor dining, but rain and occasionally too much sun may be a concern when gathering outside. A simple wooden canopy adds an artistic atmosphere while providing a fashionable covering.
You may even cover the entire space so that you can be outside, rain or shine. A wooden canopy is available in a variety of sizes, forms, and styles. A canopy may be placed above your garden entrance, providing a dry and cozy spot just close to your home.
2. Pavers Can Brighten Up the Outdoor Space
Concrete pavers are a cost-effective way to upgrade a standard poured-concrete patio, and they come in a range of sizes, shapes, and colors.
One benefit of pavers is that they are easier and less expensive to repair than concrete slabs; if a paver becomes discolored or cracked, you can simply replace it, or depending on the pavers you have, just turn it over.
3. Cover Up the Place With Beautiful Drapes
A well-shaded location may make your outdoor experience so much more comfortable, whether you want to lounge on the balcony or share a drink with your loved ones on the patio.
Covering your veranda or balcony will not only protect your area from the elements, such as heat and rain but will also provide seclusion. Use outdoor curtains to make the space feel more pleasant. They may help make a big porch or patio feel more inviting if you're lucky enough to have one.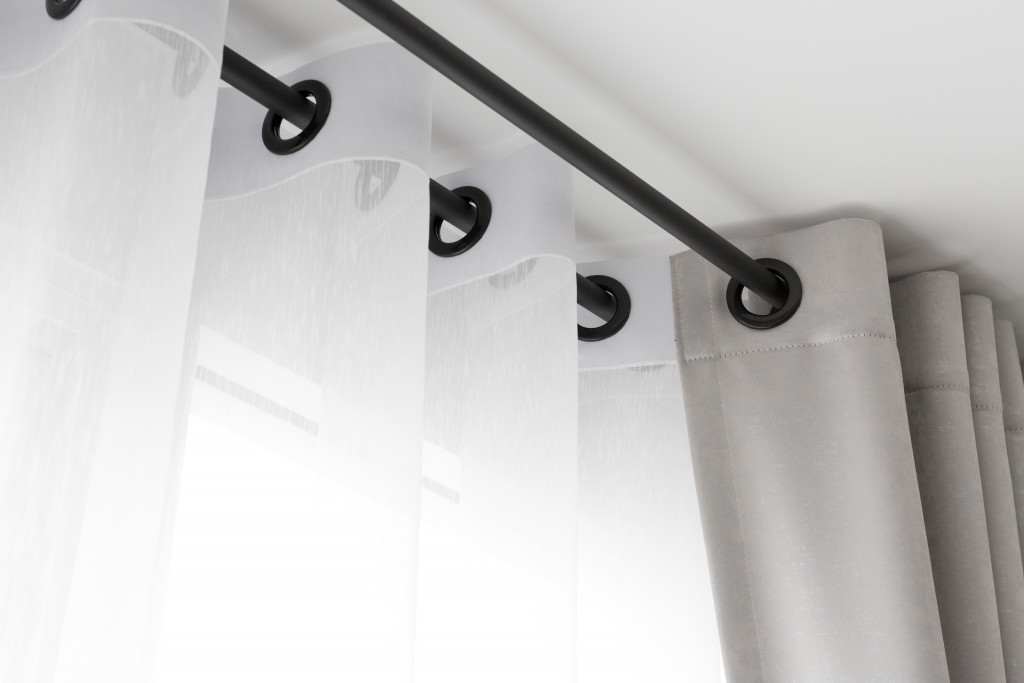 4. Illuminate Your Outdoor Space
An average outdoor environment may be transformed into something exotic and appealing with the use of lighting. All the cushions and feng shui in the world won't make your visitors want to interact in a dark corner, so if you're going to go to the trouble of modernizing your yard, make sure it's visible.
Solar lighting is a low-cost solution to spruce up any outdoor area. To surprise your regular visitors, install a new lighting setup. Besides, getting solar panels installed not only improves your home's functionality and decor but also helps you save on your electric bill.
5. Purchase New Planters or Remodel Old Ones
Attractive planters can provide just as much appeal as the plants themselves. Get them in stone, ceramics, wood, or metal, and they'll be bold and gorgeous. Copper planters with patina are very eye-catching.
Hypertufa may also be used to construct your own planters. It's quite affordable, and it might provide you with a chance to express yourself. It's also a good idea to recycle old things and materials into planters, such as tires, furniture, metal tubs, plastic buckets, prams, and wheelbarrows.
6. Keep It Warm
Add a fire feature or other heat source to your patio, deck, or backyard to extend your time spent outdoors. These ideas will not only assist in raising the temperature, but they will also help create a focal point, update your decor, and act as a location to meet, entertain, rest, and enjoy time outside.
When paired with some comfy furniture, a fire pit can transform an ordinary patio into an enticing meeting spot. If your city prohibits you from having an open wood fire in your garden, a natural gas fire pit allows you to enjoy a fire at the touch of a button.
7. Construct a Kitchen Bar
Is there a window in your kitchen that leads to the garden? You can use it to create an outdoor bar area where you can serve beverages and food. All you need is a sturdy ledge and a few bar stools.
Build an outdoor bar area on the rear of the kitchen, where the plumbing can be simply linked to the kitchen, assuming money isn't a problem.
There you have it! The goal is to be creative with the design aspects. Make a list of the things and utilize all the resources available to you, including this blog post, to build a fun, attractive, and modern outdoor living place.