So what if you have a small front yard? That doesn't mean you cannot beautify your home. Although landscaping a front yard is always a challenge, this is not a reason to completely neglect it. There are still plenty of ways you can improve the front yard design of your home. All you have to do is think of how to maximize whatever small space you have there. When you begin to accept that you only have a tiny fraction of space there, it is easier to pinpoint how you can make that work for your property.
Remember that whatever space you have in the property can work if you understand what to avoid and what to do. When it comes to small front yards, always go for techniques that will make the yard appear bigger than it is. Whether it's going minimalist or doing away with it completely, what matters is not to waste what little space you have there.
Don't Create a Driveway Anymore
Stop dreaming of a long and winding driveway. First thing's first: you do not have enough space to curve around the front yard. If you want to still have a garage in your property, pave with concrete the front of the garage. Don't try to make a huge curve on your front yard to wind down to the garden because that is a waste of space. The shortest distance between points A and B is a straight path.
That being said, ensure that you use that space for a variety of things such as a small basketball court. Paving that space well can also create a large enough area to practice skateboarding. However, from time to time, check the garage door for repair because sports and other physical activities at the front mean that door will suffer from bumps and knocks.
Lay a Steppingstone Path
If you want to create a more charming look for your front yard, why not create a steppingstone path? But for it not to waste space, make sure it is nestled into mulch and work it together with perennial flower beds. Don't allocate a separate space for the steppingstone path because it would be a waste. At the end of the path, place chairs, a birdbath, a small fountain, or the steps leading to the patio or foyer.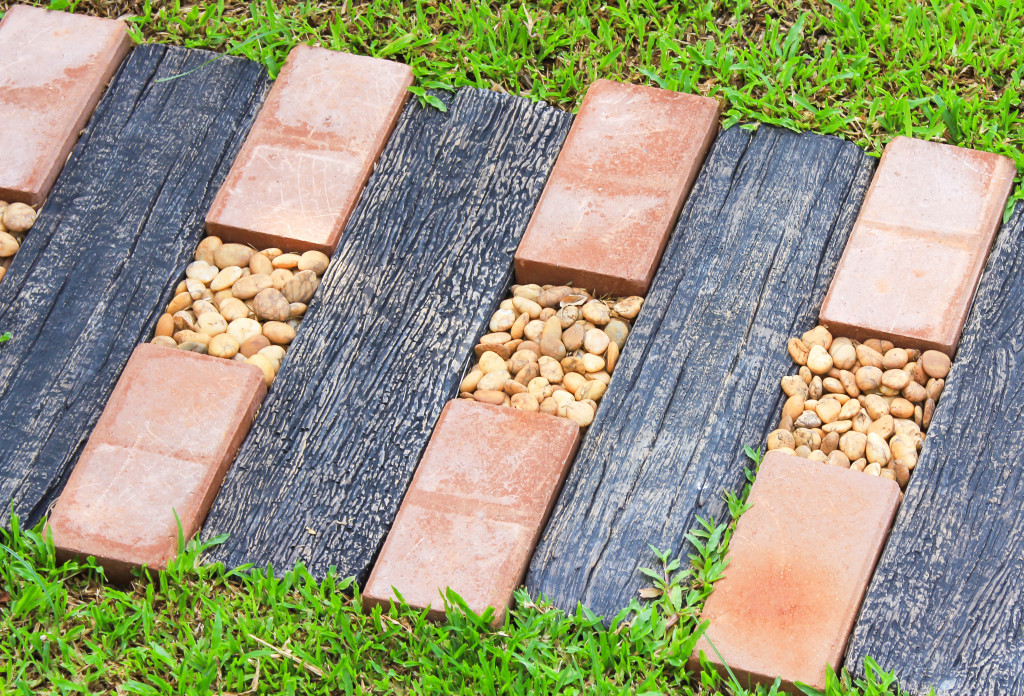 Plant Blooms
Small front yards will look more charming when there are amazing blooms of hydrangeas out front. Just think about the small front yards of tiny French cottages. They are charming not because they're small but because of the abundance of blooms that they plant on their front yards. Put a small white picket fence to limit the blooms from spilling over the street. The fence can act as support for the flowers, too. Aside from hydrangeas, consider other fragrant roses that grow easily.
Build a Patio
If you want an easy-to-maintain yard, all you have to do is to build a front patio. Hard paving the front yard will minimize the maintenance needs of the space. On top of that, this could be an additional space where you can entertain guests or simply hang around to read a book or sip coffee. If you cannot create a raised patio, the least you can do is put large irregular stones and gravel on the yard. That will also save on water because it will be low maintenance.
Go with Small Trees
Unfortunately, as much as you love large ancient trees, you cannot accommodate that in your yard. At best, you can plant dwarf or semidwarf trees that can be a beautiful addition to your front yard. Like a large tree, they can also be a focal point of your yard or garden. They can also give shade to the patio. One option is to line up the path with dwarf trees to create a linear or curve trail leading to the main door.
Make It Grass-only
If you do not have much time for maintenance work of the front yard, you can opt to grow only grass, and not plants and flowers anymore. Although shrubberies, plants, and flowers look good in a yard, they require a lot of maintenance work. Grass will be easier to keep, and it will make the yard look more spacious.
You don't need a lot of money or even effort to make your small front yard more beautiful. The good thing about having a small space is it does not require too high maintenance. With just the right amount of effort, any small space can look inviting.