Enhancing your home's curb appeal involves cleaning, landscaping, adding color, and upgrading lighting.
Small details like house numbers, door mats, and pot plants can significantly improve the aesthetics.
Strategic landscaping can increase your home's value and energy efficiency.
Good outdoor lighting improves your home's visual appeal and provides safety and security.
Investing in thoughtful design can create a memorable and inviting first impression.
As a homeowner, you strive to create a space that you love from the inside out. But have you ever thought about how your home looks from the outside? Your home's exterior is the first thing guests and potential buyers see, and it can significantly impact your home's perceived value.
The good news is that elevating your home's curb appeal doesn't have to be overwhelming. It's about making strategic updates that transform your home's first impressions. This blog post will dive into some simple and effective ways to elevate your home's curb appeal so you can be proud of your home from every angle.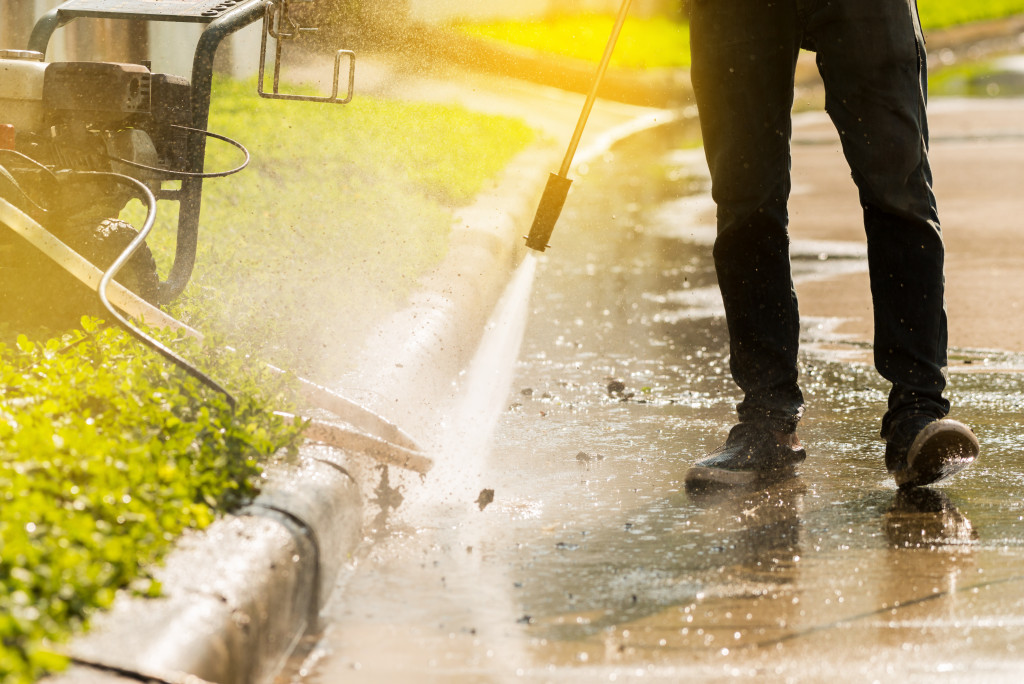 Start with a Clean Slate
The first step in transforming your home's curb appeal is to give it a good scrub down. Rent a power washer and clean your home's siding, deck, and driveway to remove accumulated dirt and grime over time. You'll be amazed at the difference this makes!
Trim Hedges and Trees
Additionally, trim overgrown hedges and trees and pull weeds to create a neat and tidy landscape. This will give your home a refreshed look and make it feel more welcoming to guests. You should also consider planting a few flowers or shrubs in the front garden to add color.
Invest in Landscaping
A well-manicured lawn and thoughtfully planned landscaping can make all the difference in elevating your home's curb appeal. Consider hiring a reputable lawn maintenance company to create a cohesive, visually appealing landscape design that complements your home's architecture. This investment can elevate your home's curb appeal and increase its overall value.
Energy Efficiency
In addition to the aesthetic benefits, landscaping can help with energy efficiency. Trees and shrubs can provide shade in the summer months to help keep your home cool. During winter, evergreen trees and shrubs offer protective barriers against windy days. When strategically placed around your property, these plants can also reduce noise from a nearby street or highway.
Add Some Color
A simple way to make your home stand out is by adding a pop of color. This can be achieved by painting your front door a bold hue. Adding color to your home's exterior adds personality and charm while making it more memorable.
If you're unsure what colors to choose, consider the existing tones of your home. Does it have neutral colors? Try adding a bright accent color, such as red or yellow. Does it already have vibrant shades? Opt for muted, earthy tones like this year's Pantone Color of the Year, ' Ultimate Gray' and 'Illuminating,' a sunny yellow, to create a sense of balance.
Upgrade Your Lighting
Good lighting is key to elevating your home's curb appeal. Consider installing outdoor fixtures, pathway lights, or accent lighting to highlight your home's best features. Not only will this improve the overall look of your home, but it will also increase its safety and security.
Welcoming Ambiance
You can also use lighting to create a welcoming ambiance. Add string lights to your patio or deck for a cozy atmosphere, and add soft lighting fixtures near the front door of your home. This will make it easier for visitors to find their way in and create an inviting first impression.
Motion Sensor
Finally, consider installing motion-sensor lighting around walkways, decks, and patios. Motion-sensor lights will help you navigate the area in the dark and provide an extra layer of safety and security.
Focus on Small Details
Often, the small details can make the most significant impact on your home's curb appeal. Consider updating your house numbers, mailbox, or door knocker to add charm and personality. Adding a new welcome mat, potted plants, or seasonal wreath can also contribute to a polished and inviting look.
Cleaning the Exterior
You should also focus on small details like cleaning your gutters and replacing worn-out window trims. These minor repairs can make a huge difference in transforming the look of your home.
Your home's curb appeal is crucial to how others perceive it. By making strategic updates like cleaning, adding color, and upgrading lighting, you can transform your home's exterior and make it feel warm and welcoming. Remember that sometimes, the small details make the most significant difference. Investing in thoughtful landscaping and professional design can also raise your home's value and give it that extra charm. By following these tips, you can take pride in your home from every angle and create a first impression that is both memorable and enjoyable.